About Ellyn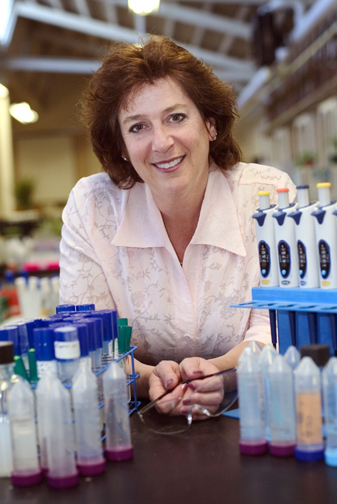 Ellyn Daugherty
Biotechnology: Science for the New Millennium, 2017
(650) 400-9424 (direct)
Ellyn@BiotechEd.com
www.BiotechEd.com
A 34 year veteran biology teacher, Ellyn Daugherty began teaching biotechnology in 1988. She was the Founder, Lead Teacher, and Program Administrator for the San Mateo Biotechnology Career Pathway (www.SMBiotech.com).
In a multi-year program, the San Mateo Biotechnology Career Pathway (SMBCP) prepares students to work in adult scientific research facilities. Twenty companies act as industry partners to support the Biotechnology Pathway Program by providing internships, surplus equipment and donations. Over 10,000 students have taken SMBCP biotechnology classes and over 1000 have been placed into extended laboratory internships.
Ellyn's model curriculum attracts adults and teenagers into an intensive, multiple-year program in biotechnology that leads students to higher education and the workplace. The curriculum, Biotechnology: Science for the New Millennium, 2017 is published by EMC Paradigm Publishing and supported by the scientific products suppliers G-Biosciences and Fisher Science Education. Over 1500 high schools and colleges use Biotechnology: Science for the New Millennium.
Ellyn has received several awards for her innovative teaching and curriculum development, including:
• The National Biotechnology Teacher Award, Biotechnology Institute and Genzyme, 2004
• Presidential Award in Science Education, California State Finalist, 2000
• Intel Innovations in Teaching Award, California State Runner-up, 2000
• Tandy Technology Prize, Outstanding Teacher Award, 1997
• LaBoskey Award, Stanford University, Master Teacher Award, 1995
• Access Excellence Award, NABT and Genentech, Inc., 1994
• National Distinguished Teacher, Commission on Presidential Scholars, 1992
An avid San Francisco Giants and Golden State Warriors fan, when Ellyn is not in the lab or at a game, she can be found on the golf course, in the garden, golfing or hiking with her husband, Paul or walking their chihuahua, Rocky Balboa.
Ellyn believes strongly in teacher professional development and conducts several workshops a year, in her lab, and at national conferences. Ellyn works with teachers and school districts to develop and improve their biotechnology education programs. Ellyn's website (www.BiotechEd.com) contains a collection of teacher support materials, information about upcoming workshops, and links to other biotechnology education websites.

See Ellyn's Curriculum Vitae / Professional History
Biotechnology: Science for the New Millennium text, lab manual, and ancillaries were first released in January 2006. A revision of the 1st edition was released in 2012. A second edition, Biotechnology: Science for the New Millennium, 2017 will be released in June 2016.

Visit www.emcp.com/biotech for a tour through the text and lab manual.
Ellyn is the founder of the San Mateo Biotechnology Career Pathway at San Mateo High School, San Mateo, CA.
Learn more about it at the San Mateo Biotechnology Career Pathway Homepage